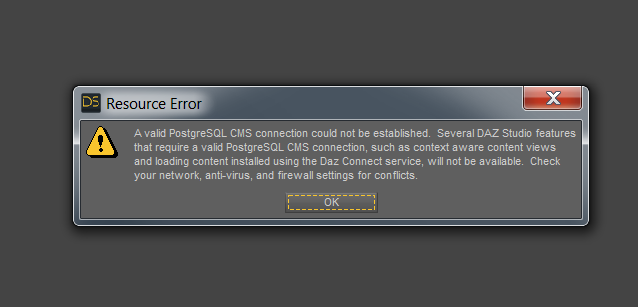 If you have upgraded to Daz Studio 4.9 and are receiving an error when you launch Studio that says, "Daz Studio cannot establish a valid PostgreSQL connection", you will need to reinstall PostgreSQL.
Make sure you close Daz Studio.
Then, launch Daz Install Manager (DIM). If you need to download DIM, do that here: http://www.daz3d.com/install-manager-info
Then, go to your Installed pane. If PostgreSQL is already installed, please uninstall.
Then, go to your Ready to Download pane, and reinstall PostgreSQL, (or if you did not have to uninstall, install it for the first time).
Then, close Install Manager.
Launch Daz Studio 4.9.
If this does not resolve the error, you should change the port that Daz Studio is assigned. To do this, go to Edit > Preferences...> CMS Settings > Port and select a different port, and click Accept. Then, close Daz Studio, and relaunch Daz Studio.
Also check that your firewall and antivirus are set to allow Daz Studio.
If the none above troubleshooting steps help resolve the error, please open a ticket in Helpdesk, located here: https://helpdaz.zendesk.com/agent/dashboard . Please provide the Daz Studio Log file (Help> Troubleshooting> View Log File...) in your request.